The role of any technology is to make the lives of humans easy. One of the biggest testament of this statement can be seen in the development and adaptation of "Low-Code" Software development. With everything getting simplified with the rise of technology, the mantra of this success continues even in the developmental processes of applications and software. 
It is well-known that coding is one of the primary ways of developing software and applications. That makes app development restricted to the limits of the developers who are writing the codes. Low Code and no-code development is going to transform how software and apps were developed till now. In this article, we will see how Low-code technology is transforming software development.
What Is Low-code Development?
Low-code is the new way of developing business applications that have made writing codes line by line redundant. Now, with the advent of low-code development, users can build an app through a Graphical User Interface (GUI) and other visual modeling methods, which makes the process fast and intuitive. Users can use gestures drag and drop to make the necessary changes. Low-code apps can be built via platforms that are offered as Software as a Service (SaaS) solutions.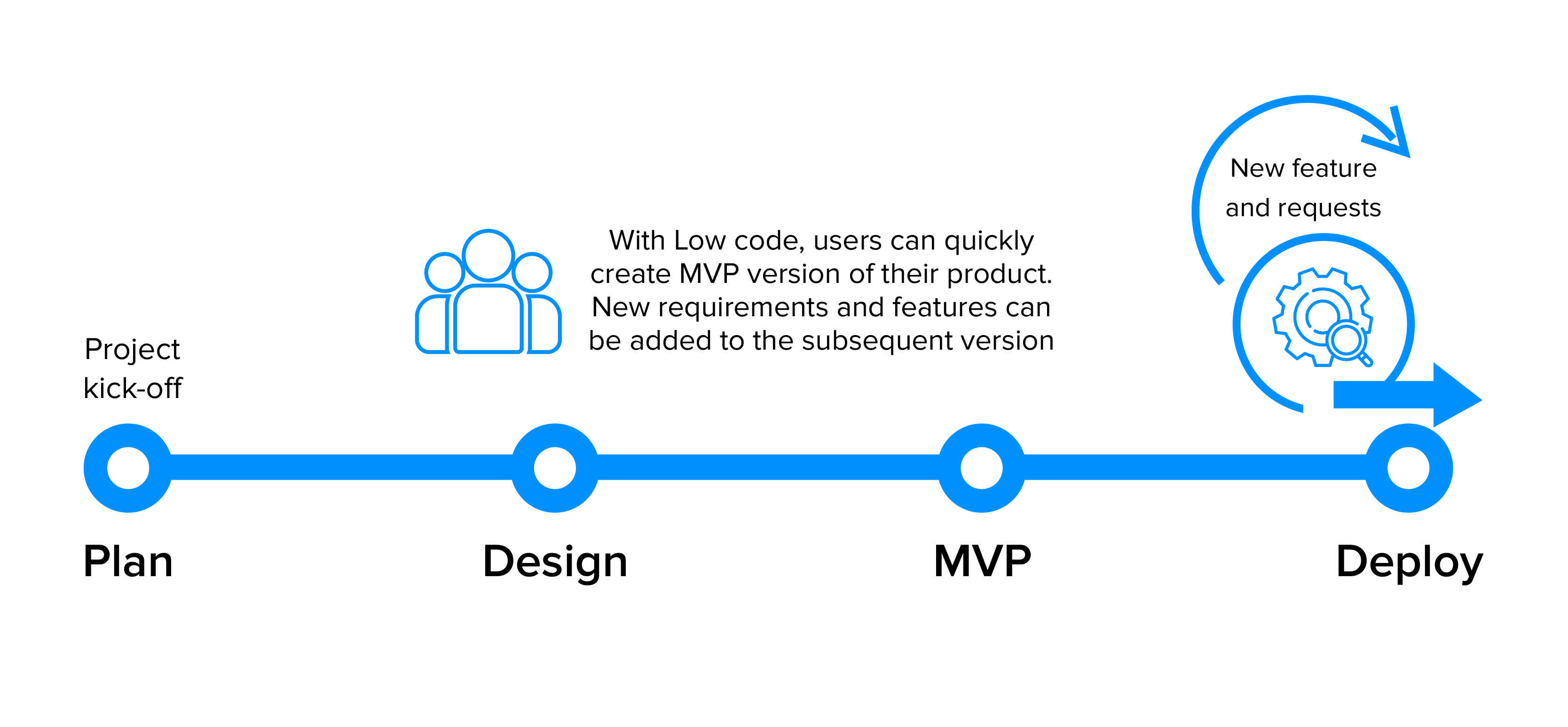 Benefits of Opting for a Low-Code App
It is well known that simplifying any process multiplies its usability and practical application manifolds. Apart from that, there are many ways low-code apps resolve many issues associated with the standard application development process.
Low Cost of Development
Naturally, using a low-code platform will make your app development process fast, easy, and inexpensive. You will save a fortune of hundreds of man-hours and won't have to bear the bills of app development agencies. On top of that, the frequent app maintenance expenses will also be a thing of the past.
Gives More Time to Market Your App
Using a low-code method of developing an MVP will give you measurable results very fast. With a product to showcase in your hand, you can kick start your marketing and promotional activities way before you could do that using the standard methods.
Gives More Control to the Entrepreneur
By engaging a low-code mode of app development, entrepreneurs are not limited to the abilities of the developer who is writing the codes of the app. Using a low-code development process, enables entrepreneurs to participate more in the developmental process than they ever could before and make decisions, without worrying too much about the resources at their disposal. 
Built-in Testing and Control Over Different Phases of Development
Low-code development offers many tools that allow users to test the functionality of their app at various levels. It offers unit, as well as fully automated testing at any stage and also offers one-click deployment and monitoring when the application is live.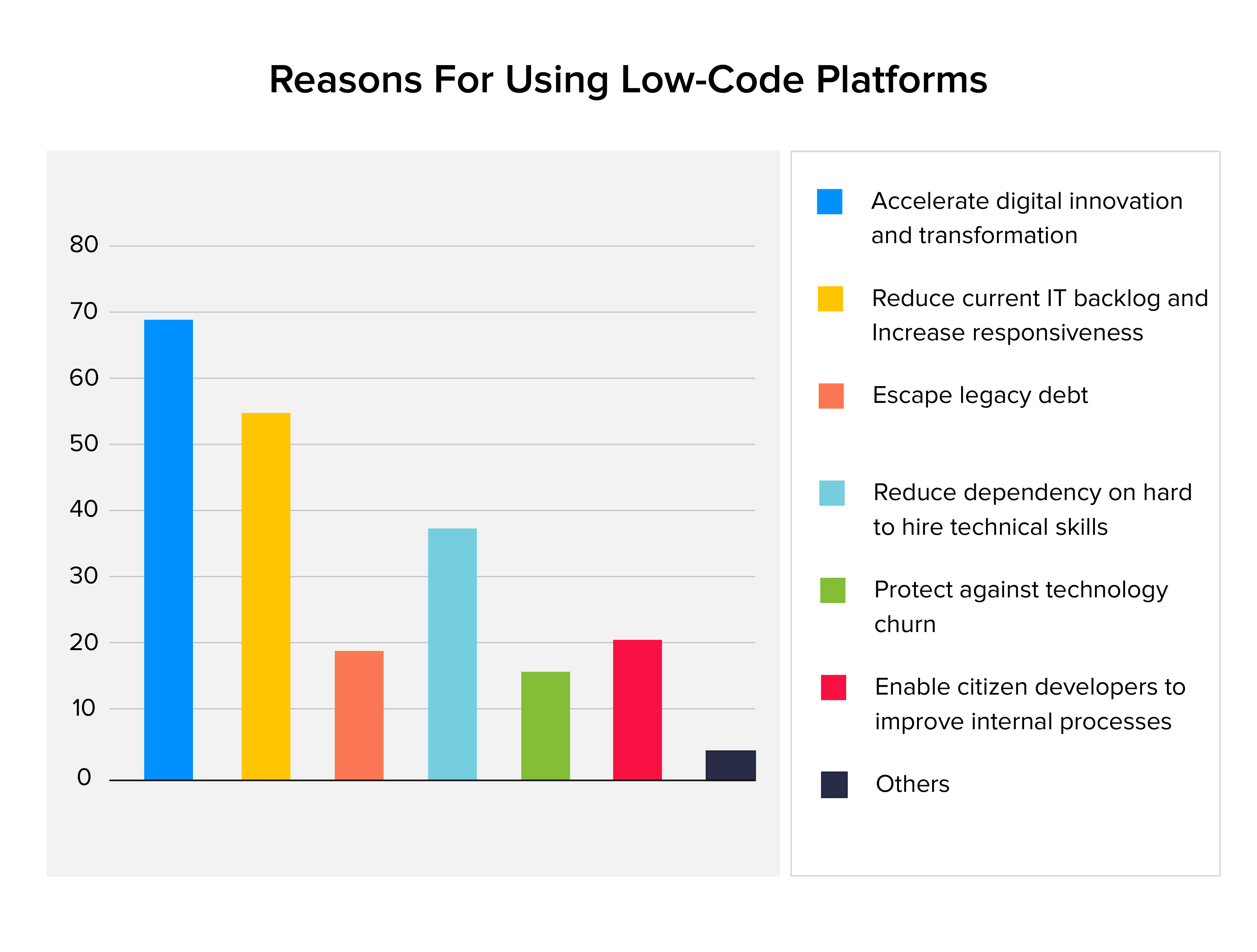 Best Low-Code Development Platforms
There are many Low-Code Development tools available in the market, but the following offer maximum value and highest technical assistance with flawless services:
Monday.com– One of the best platform for low-code development it allows you to automate tasks without any coding.
Features:
Modernized and streamlined workflow, automation, integration, and data visualization.
Rapid application delivery.
Data visualization in interactive ways like timeline, surveys, calendars, maps, charts, etc.
Offers free trial.
Creatio – A great platform for creating process-automation and CRM systems. It offers ready to use apps with the cloud as well as the on-premises deployment. 
Features:
CRM platform with opportunity management, lead management, case management, product management, document-flow automation, analytics and contact centres.
Cutting edge UI for visual modeling.
Complete security and administrative control
Offers free trial for 14 days
Quixy – Capable of building enterprise-grade apps with no-coding. Also offers many pre-built solutions for standard use.
Features:
Build a UI by dragging and dropping items
Model processing and workflow building via easy to use visual builder.
Test your app with Quixy stimulator.
Offers free trial.
How Can Low-Code Apps Help Today's Businesses?
The application is wide and only the imagination is the limit, but here are few ways low-code apps can start making a difference right away.
Making Operations Easy
Using inexpensive and fast low-code apps will help small businesses in making their daily operations easy and fast. Companies can save a lot of time and money by cutting data entry and other repetitive manual jobs.
Useful in Many Developing Countries
Developing countries are full of opportunities and talented people who are looking for ways to make it big but are restricted because of infrastructural limitations. Low-code development will help such entrepreneurs in developing countries and allow them to execute strategies faster and cheaper. Thousands of small businesses in developing countries can get benefited from the ease of development and maintenance of low-code apps. 
Adapting Digitalization for New Players
Digitalization is going through its course and those who want to succeed are going with it. When digitalization is becoming the need of every business, low-code apps will enable many businesses and entrepreneurs with no technical background or knowledge to adapt to the change. Taking up a low-code development process won't take up much of their resources and time, starting their digitalization process.
Conclusion
The Low-code development process is a great way to bring your ideas to life and experiment with what you can do with a business application, without giving away too many resources. With the ease of creating applications and software, many businesses can create an MVP in a matter of days and run campaigns to meet their bigger goals. Certainly, low-code apps will benefit millions of small ventures who are struggling in meeting the high cost of app development. There are a few limitations associated with low-code apps regarding complexity, security, and interaction. Despite its limitation, by taking away the steep learning curve associated with app development, low-code apps have given innovation a new definition.